Hand stitching for all levels!
Enjoy hand stitching or want to get into it? We have a few ideas that are simple enough for beginners but fun for stitchers at all levels!


FINDING A CLOTH TO STITCH
Have a lot of fabric laying around your sewing room? Some fabric patterns can make great stitch ideas. Look for simple shades and lines that are easy to trace over so that the pattern itself doesn't interfere with the stitching. 
Another idea is to purchase a drop cloth sampler, which comes printed with a variety of shapes and patterns perfect for stitching over. These are readily available at most sewing supply stores. You can also make your own drop cloth sampler by tracing patterns on to fabrics using a light box. However if you don't have one, you can tape your pattern to a window, overlay the fabric over-top and use the natural light coming through as a make-shift light box to trace your fabric with! 
One inspiration we've found for hand stitching ideas is to look at adult colouring books, which have recently become hugely popular. Translating patterns from the books to a piece of fabric to stitch gives these beautiful designs a whole new look! 
Choosing a Thread
WonderFil has a threadline called Eleganza. This gorgeous #8 perle cotton thread has a wonderfully smooth and lustrous surface that allows it to glide through all types of fabrics and fibres. Eleganza adds a luxurious finish to embellishment stitchery and is offered in two colour lines: WonderFil offers #8 5g gram balls in 100 solid colours, and Sue Spargo offers it in 36 solid and 54 variegated colours in 64m (70yd) spools.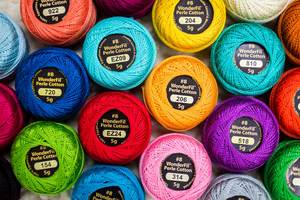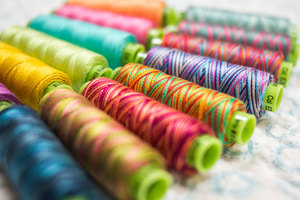 Another choice if you like a little extra glamour is Dazzle, an 8wt rayon thread that has been woven with a strand of metallic to add a little sparkle and shine to your stitches! This thread makes an excellent accompaniment to Eleganza and can be interwoven in the stitches for a unique texture!
 With Love and Threads,
WonderFil